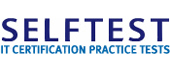 In 2010, Kaplan SelfTest became a division of Kaplan University School of Professional and Continuing Education. Kaplan Higher Education Corporation is a subsidiary of Kaplan, Inc., one of the largest diversified educational institutions in the world. For nearly two decades, Kaplan SelfTest has been preparing IT professionals for long-term career success. Whether you're upgrading your skills for the test of life or for certification, they give you the tools to make it happen.
Kaplan SelfTest is the trusted provider of solutions that help IT professionals prepare for the challenging task of industry certification. From leading exam simulations to self-paced online courses, their practical "cert prep" products are designed to help you help yourself–to a better job and to more respect in your technology field. What's more, there's no travel required; you can enjoy affordable, high-quality study materials from the convenience of your own computer.
LearnSpectrum will help you assess your Kaplan SelfTest requirements and craft a custom corporate training plan to meet your needs. Please call LearnSpectrum toll free at 888.682.9485 and speak to a representative.
*Information sourced from: www.selftestsoftware.com