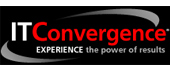 IT Convergence is a global enterprise application services provider with core competencies in Oracle Consulting, Development, Education, Hosting, and Support Services. Their comprehensive full-service value offering allows you to streamline the process of implementing, upgrading or customizing an application, supporting your environment and effectively managing the application lifecycle.
Maximize your return on investment in Oracle ERP by partnering with IT Convergence Education Services. All instructors have senior-level technical and functional background as consultants, combined with years of hands-on implementation and troubleshooting experience, which they apply to ensure that your training gives you the skills you need to use Oracle to improve business performance.
LearnSpectrum will help you assess your IT Convergence training requirements and craft a custom corporate training plan to meet your needs. Please call LearnSpectrum toll free at 888.682.9485 and speak to a representative.
*Information sourced from: www.itconvergence.com