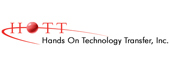 Hands On Technology Transfer, Inc. (HOTT) brings 20 years of experience in successfully delivering competency-based IT training programs for thousands of companies. They offer a unique combination of live and remote attendance for unbeatable flexibility. They offer true competency-based programs, guarantee quality, and guarantee to lower your costs, all at the same time.
HOTT offers live, instructor-led IT training courses in over 100 cities across the United States, Canada and the United Kingdom. Regardless of how you attend training (face-to-face, remote attendance or onsite), their courses are designed to spend at least 50% of class-time working with comprehensive hands on exercises. Their open enrollment classes average less than 12 students.
LearnSpectrum will help you assess your HOTT training requirements and craft a custom corporate training plan to meet your needs. Please call LearnSpectrum toll free at 888.682.9485 and speak to a representative.
*Information sourced from: Hands On Technology Transfer, Inc.