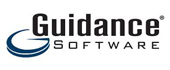 Guidance Software is recognized worldwide as the industry leader in digital investigative solutions. Their EnCase® Enterprise platform is used by numerous government agencies, more than 65 percent of the Fortune 100, and more than 40 percent of the Fortune 500, to conduct digital investigations of servers, laptops, desktops and mobile devices. Built on the EnCase Enterprise platform are market-leading electronic discovery and cybersecurity solutions, EnCase eDiscovery, EnCase Cybersecurity, and EnCase Analytics. These solutions empower organizations to respond to litigation discovery requests, perform sensitive data discovery for compliance purposes, conduct speedy and thorough security incident response, and reveal previously hidden advanced persistent threats or malicious insider activity.
Guidance Software's services include incident response, computer forensics, and litigation support, provided by experts with hands-on experience in digital investigation. Each year they also train over 6,000 corporate, law enforcement, and government professionals in digital forensics, e-discovery, security, and incident response. You can trust EnCase and Guidance Software to solve your cybersecurity, e-discovery, and digital investigations challenges!
LearnSpectrum will help you assess your Guidance Software training requirements and craft a custom corporate training plan to meet your needs. Please call LearnSpectrum toll free at 888.682.9485 and speak to a representative.
*Information sourced from: www.guidancesoftware.com