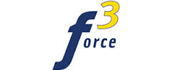 Another day, another breakthrough. For over 20 years, it hasn't been about Force 3. It's been about their customers and their customers' success. By combining innovative and unique solutions with Force 3 highly trained and passionate employees, they have created a pattern of business success for their customers, while at the same time keeping their customers on the forefront of emerging technologies.
Force 3 knows it's important for you and your team to get the most out of your investments, so they're now offering Cisco Authorized Training and Certification courses in high-definition at their Crofton headquarters.
LearnSpectrum will help you assess your Force 3 training requirements and craft a custom corporate training plan to meet your needs. Please call LearnSpectrum toll free at 888.682.9485 and speak to a representative.
*Information sourced from: www.force3.com