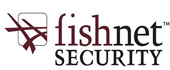 FishNet Security is the No. 1 provider of information security solutions that combine technology, services, support and training. Since 1996, the company has enabled clients to manage risk, meet compliance requirements and reduce costs while maximizing security effectiveness and operational efficiency. FishNet Security is committed to information security excellence and has a track record of delivering quality solutions to over 5,000 clients worldwide.
With over 15 years of IT Security training experience, FishNet Security is a leader in multi-vendor, non-biased training. Their trainers focus on delivering a real-world, hands-on education experience. FishNet Security acquired assets of Proteus Networks and its parent company TorreyPoint to increase their strength as a premier training provider. With their combined capabilities, customers will now have access to a more robust suite of training solutions backed by an even stronger team of experienced and seasoned trainers. FishNet Security eLearning courses and programs focus on PCI and HIPAA compliance, security awareness, secure applications and secure coding.
LearnSpectrum will help you assess your FishNet Security training requirements and craft a custom corporate training plan to meet your needs. Please call LearnSpectrum toll free at 888.682.9485 and speak to a representative.
*Information sourced from: www.fishnetsecurity.com