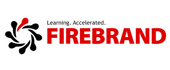 Firebrand Training provides you with the fastest route to professional certification. Guaranteed. Wherever you are in the world, they have a purpose-built training centre available. At Firebrand you will experience accelerated learning delivered by industry-experienced professionals. Have you ever been on a course, where you spent only a few hours training each day, and it took weeks, or even months to complete? Not at Firebrand Training. They aim to deliver courses in half the time of anyone else. But what really makes Firebrand unique is that you will take your exams and achieve certification as part of the course. This is the ideal measurement of success and will save you time, money and effort.
Whether you are self-funding, or being backed by your employer, Firebrand Training is the cheapest option. Accelerated learning means that you'll be spending more time doing what you want to do – although they enjoy your company, you won't spend much time with them. Firebrand Training's accelerated learning provides a very attractive return on investment. An example of this is the MCTS / MCITP Enterprise Administrator certification, which takes less than two weeks to complete. Elsewhere, this consists of ten separate weeks of training; which can take as long as two years. Imagine the earning potential or career progression opportunities that could pass by over this period. At Firebrand they are passionate about their training, and they want to take you on this journey with them.
LearnSpectrum will help you assess your Firebrand Training learning requirements and craft a custom corporate training plan to meet your needs. Please call LearnSpectrum toll free at 888.682.9485 and speak to a representative.
*Information sourced from: www.firebrandtraining.co.uk