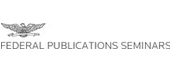 Federal Publications Seminars, a Thomson Reuters business, is a leading provider of practical, high-quality courses and materials for government contract professionals. With more than 50 years' experience in the field, they offer hundreds of public seminars – plus the cost effective option of on-site courses – that are tailored specifically to your government contracting needs. Their goal is to provide you with solid, comprehensive opportunities to get up-to-date on topics that are of critical importance to your government contracting activities. They continually refine and update their courses and materials to provide you accurate, concise information – from solid fundamentals examining core principals to highly technical analysis of specific subjects and issues.
Federal Publications Seminars is the recognized leader in federal government contracts training and professional development. In business for more than 50 years, Federal Publications Seminars has taught many of today's working contracting professionals, attorneys, and accountants. Faculty members are the top in their field and training is substantive, buildable, and up to the minute. Their courses are presented several times a year in locations around the country and are thoroughly updated for each session. In addition, attendees receive a comprehensive course manual that has been authored for each program. You can also get training customized to your team's needs in the convenience of your own location. Federal Publications Seminars brings unparalleled government contracts training directly to your team, affordably and confidentially.
LearnSpectrum will help you assess your Federal Publications Seminars training requirements and craft a custom corporate training plan to meet your needs. Please call LearnSpectrum toll free at 888.682.9485 and speak to a representative.
*Information sourced from: www.fedpubseminars.com