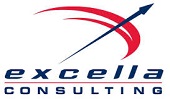 Excella helps clients develop and execute strategies to use technology. They get things done by combining broad knowledge with deep expertise and by building great, long-term relationships. They define and execute technology strategies to produce real business results by following a simple corporate philosophy: "Take care of our people, take care of our clients, and the rest takes care of itself."
The Agile Center of Excellence supports Excella's teams and clients using Agile processes. Their Certified Scrum Masters and Scrum Practitioners use Agile processes for their own work and to help clients interested in adopting Agile figure out where to start.
Excella Consulting is a PMI Registered Education Provider (R.E.P.) offering private and public courses on Agile and Scrum. Their trainers have deep expertise working with commercial, non-profit, and Federal Government clients. This expertise allows them to provide training suited to your specific team environments. In addition to deep expertise, Excella's trainers successfully implement Agile at client sites, lead industry groups, and are recognized thought leaders in both the local and international Agile communities.
LearnSpectrum can give you more information or schedule any of your Excella Consulting training needs. Please call LearnSpectrum toll free at 888.682.9485 and speak to a representative.
*Information sourced from: www.excella.com