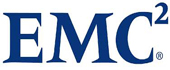 EMC is a global leader in enabling businesses and service providers to transform their operations and deliver information technology as a service (ITaaS). Fundamental to this transformation is cloud computing. Through innovative products and services, EMC accelerates the journey to cloud computing, helping IT departments to store, manage, protect and analyze their most valuable asset — information — in a more agile, trusted and cost-efficient way.
EMC offers a broad range of training, from VMware server virtualization integration, to EMC storage platforms, to data deduplication, to ITIL that will increase the productivity of your IT infrastructure team. Get Certified with The #1 Certification Program in the information storage and management industry.
LearnSpectrum will help you assess your EMC training requirements and craft a custom corporate training plan to meet your needs. Please call LearnSpectrum toll free at 888.682.9485 and speak to a representative.
*Information sourced from: www.emc.com