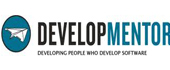 DevelopMentor provides solutions for all professionals involved in the life cycle of software projects including experienced developers and IT management professionals. They deliver in-depth curriculum – more than 100 courses available at their facilities, at your site and at their popular "Guerrilla" immersion events. Their mission transcends delivery of training. They're committed to helping you realize the value of your learning investment, to helping your people meet your project goals, and to serving as the catalyst for real change.
DevelopMentor's curriculum covers a wide spectrum of topics and technologies. These courses are built by professional software developers for professional software developers. Their classroom-based courses are among the best in the industry. Their instructors are industry leaders who not only have great presentation skills, but also real-world knowledge to bring back into the classroom. Whether you want to learn online at your own pace or you want to learn synchronously with a group of online students, DevelopMentor has you covered.
LearnSpectrum will help you assess your DevelopMentor training requirements and craft a custom corporate training plan to meet your needs. Please call LearnSpectrum toll free at 888.682.9485 and speak to a representative.
*Information sourced from: www.develop.com