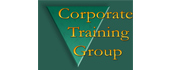 Corporate Training Group, Inc. is a Microsoft Gold Certified Partner for Learning Solutions and Information Worker Solutions. CTG provides authorized training delivered by Microsoft Certified Instructors (MCT) using Microsoft Certified Courseware. CTG provides technical training and consulting services. Instructors possess real-world knowledge of the technologies and applications in which they specialize, along with the excellent interpersonal skills clients expect. Clients can leverage that knowledge to help mentor their staff while streamlining business processes. Their mission is to prepare you and your coworkers to deal with the rapidly growing amount of information required to excel at your jobs, using proven effective teaching methods for information technology, desktop software and professional development subject matters.
Corporate Training Group's strength is custom training. Their talent for customizing the training experience sets them apart from other training vendors. Whether your team needs to combine selected chapters from various courses, have company IT policy notes added into the curriculum or get customized hands-on labs developed that use simulations of your company's data, they are ready to deliver your solution.
LearnSpectrum will help you assess your Corporate Training Group training requirements and craft a custom corporate training plan to meet your needs. Please call LearnSpectrum toll free at 888.682.9485 and speak to a representative.
*Information sourced from: www.ctgtraining.com