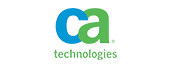 CA Technologies helps companies simplify and solve their most challenging IT problems in order to accelerate innovation. Only CA Technologies can deliver software and solutions across the complete service lifecycle—from pre-production portfolio planning and service modeling, to service assembly, automation, assurance and production management—with solutions that work across their customers' choice of platforms, technologies, and vendors.
Buying new or upgrading software? There's a class for that! Why would you buy new or upgrade current software without the associated training for your teams? Simple – you wouldn't! Ensure that your team is capable of fully leveraging your CA Technologies software to meet your business needs today and into the future through CA Education's robust catalog of training courses, the CA Productivity Accelerator, and CA Certification.
LearnSpectrum will help you assess your CA Technologies training requirements and craft a custom corporate training plan to meet your needs. Please call LearnSpectrum toll free at 888.682.9485 and speak to a representative.
*Information sourced from: www.ca.com/us