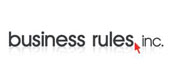 Business Rules, Inc. (BRI) was born in 1999 when they set up shop as business analysts for software development. Along the way they heard many strange reasons to keep archaic business processes in place, even when they made no practical or financial sense. "Those are our business rules," said their customers. Hence, the name "Business Rules, Inc.". Since then, BRI has assisted in the creation of a title management system at HarperCollins, untangled corporate help-desk procedures for Barnes & Noble, and managed the development of an online teachers tool for Scholastic.
Since 2003, when BRI became certified to teach Apple classes, they have taught Apple classes to hundreds of students in thousands of classrooms internationally and throughout the United States. They opened their spacious Apple Authorized Training Center (AATC) in 2006 in the glorious Hudson River hamlet of Rhinecliff, NY. There BRI provides IT, video and hardware technicians with personal attention in a quiet, intimate classroom. They earned Apple's prestigious AATC Gold Level status in 2009, thanks to their loyal customers, and have maintained this status every year since.
LearnSpectrum brings Business Rules, Inc. (BRI) seamless training solutions to their clients. To receive more information about TechXact's courses, dates, and locations, please contact a LearnSpectrum representative toll free at 888.682.9485.
*Information sourced from: www.businessrulesinc.com