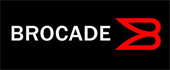 Brocade provides innovative network solutions that help the world's leading organizations transition smoothly to a virtualized world where applications and information can reside anywhere. These solutions deliver the unique capabilities for a more flexible IT infrastructure with unmatched simplicity, non-stop networking, application optimization, and investment protection. As a result, organizations in a wide range of industries can achieve their most critical business objectives with greater simplicity and a faster return on investment.
Brocade recently partnered with ExitCertified to deliver the first courses as part of Brocade's Authorized Training Partner (ATP) training delivery program throughout North America. ExitCertified, like all Brocade ATPs, is certified to teach Brocade's Instructor-Led and Virtual Classroom course portfolio including SAN, IP, and Ethernet Fabric curriculums. This model and Brocade's strategic partnerships allow them to deliver more courses, in multiple languages, in more locations. Brocade will continue to offer their self-paced web-based training, making it easy for students to learn from anywhere at any time.
LearnSpectrum will help you assess your Brocade training requirements and craft a custom corporate training plan to meet your needs. Please call LearnSpectrum toll free at 888.682.9485 and speak to a representative.
*Information sourced from: www.brocade.com