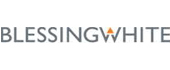 BlessingWhite is a global consulting firm dedicated to creating sustainable high-performance organizations. They provide consulting, processes, tools and training to create high-performance cultures that drive bottom-line results and reinforce your organization's mission and values, develop leaders at all levels who can manage the business and inspire your employees, and align employee self-interest, energy and talents with your organization's strategy.
Organizations worldwide engage BlessingWhite to design and implement employee engagement and leadership development initiatives. They do so because BlessingWhite has a proven track record of successfully combining tried-and-tested content with customized curriculum design. Their expert consultants and broad network of certified facilitators allows them to provide both the expertise and geographic reach that their customers require. A recognized thought leader in organizational culture, employee engagement and leadership development, BlessingWhite's programs and content are informed by ongoing workplace research.
LearnSpectrum can give you more information or schedule your BlessingWhite training needs. Please call LearnSpectrum toll free at 888.682.9485 and speak to a representative.
*Information sourced from: www.blessingwhite.com