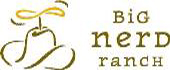 When the Big Nerd Ranch started out, they did one thing and they did it well: they taught programming languages. Now, over a decade later, they've expanded to include consulting, software products and an ever-growing library of Big Nerd Ranch books.
The key to the Ranch getting bigger – and better – every day? They started out teaching, but they never stopped learning. Their teachers became experts. Who became consultants. And they learned even more. All that knowledge influenced their software products division. And their software products division? Everything they learn comes back to influence Big Nerd Ranch's classes and consulting. So every horse in their proverbial stable helps make the others that much stronger. Notice a theme here? Learning. It's at the core of everything they do now and everything they'll do in the future.
The thrill of helping students master a new programming language? They just can't get enough of it. That's why they're dedicated to delivering the very best training around. From industry-leading instructors to programming bootcamps that are intense and yet very zen (how's that for an oxymoron?), they offer everything a nerd needs to conquer a new language in about a week.
LearnSpectrum can give you more information or schedule your Big Nerd Ranch class or bootcamp training. Please call LearnSpectrum at 888.682.9485 and speak to a representative.
*Information sourced from: www.bignerdranch.com