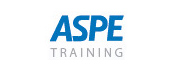 Encompassing six unique divisions, ASPE teaches people and companies the skills they need for business and technology success. Educating today's professionals with real-world training, their six divisions — ASPE-SDLC, ASPE-IT, ASPE-ROI, ASPE-Evolve, ASPE-Energy, and the American Health Sciences Institute — provide a hands-on approach that surpasses your expectations of a typical classroom setting. It is this approach, their corporate values and mission of servicing their customers in which they excel and take pride.
Each year ASPE trains more than 20,000 people across the globe in public classroom, live online, or onsite course sessions. They are based in Cary, NC, but their customers have the flexibility to decide where, when and how they want to train. Not only does ASPE have more than 2,000 sessions scheduled across 80 North American cities annually, they provide international onsite delivery as well as live, instructor-led online options for those who can't make it to a scheduled classroom session.
ASPE is a registered Scrum training provider through the Scrum Alliance. All our Scrum courses are hands-on and utilize a real–world approach and are all taught by experienced and certified instructors and are guaranteed to prepare you for Scrum certification.
LearnSpectrum will coordinate ASPE training for all prospective attendees. If you are ready to enroll or if you are interested in receiving more information about these programs, please contact a LearnSpectrum representative toll free at 888.682.9485.
*Information sourced from: www.aspeinc.com