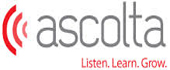 Ascolta was founded in 1987 to network clients to their enterprise systems. As a leading internetworking firm, their systems engineers and IT professionals designed and supported complex enterprise-wide networks and trained customers how to become self-sufficient. Now, their instructors bring their real-world experience to the classroom to share with you what has been learned in the field over the years. Let them help you stay up to date in the latest technologies by providing hands-on learning in the classroom — both physical and virtual — or through their content-rich self-paced courses. Whether you choose to attend a class or study on your own, you'll always have someone to guide you and work with you to help you attain your individual or corporate goals.
Achieving IT certification remains a highly desirable option for technology professionals who want to upgrade their skills set and position themselves for career growth. Becoming certified proves to your employer, clients, and colleagues that you have the industry recognized credentials and the expertise to perform at a specialized level as an IT professional. Ascolta is proud to offer the latest certification training programs with their robust network of in-house and partner experts.
LearnSpectrum has experience in coordinating Ascolta's career classes and certifications. For more information on Ascolta's course offerings, please contact a LearnSpectrum representative toll free at 888.682.9485.
*Information sourced from: www.ascolta.com