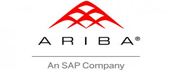 Ariba is an SAP company. Every day, they help their customers find opportunities to cut costs, reduce risk, and grow revenue through better collaboration with trading partners. They enable that collaboration through the Ariba Network — a cloud-based community where you'll find buying, selling, and managing cash to be as easy as using Amazon, eBay, and PayPal. They also host other online communities where business commerce professionals network and share information and best practices, just like friends on Facebook. Ariba understands the challenges you face when it comes to achieving greater visibility and efficiency with your trading partners. That's why they put a lot of time and energy into becoming the world's largest business commerce network, and helping companies work together securely and efficiently in the cloud.
The challenges that new technology presents an organization can require training for individuals with varying roles, needs, and requirements. The main goal of Ariba Education Services is to enable your teams with the skills and best practices that will allow them to take advantage of all the benefits of the Ariba Solutions. They provide the world class training required to successfully deploy, use, and maintain our products. By enabling your teams for success you will receive quicker return on your training investments.
Benefits of Ariba Training
Streamline and enable your project teams for success
Increase end user adoption
Build skills for your administrators and key users
Accelerate and streamline your investment in Ariba Solutions
Reduce support/operating costs and enable success
Protect your investment in Ariba Solutions
Flexible training options to meet your needs
LearnSpectrum can give you more information or schedule your Ariba training needs. Please call LearnSpectrum toll free at 888.682.9485 and speak to a representative.
*Information sourced from: www.ariba.com