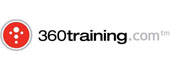 Whether you're looking for some of the most comprehensive training programs to further your career, or a complete solution for integrating training solutions for your business, 360training offers endless possibilities for learners, educators, and business partners.
Cultivating your skill sets while expanding your knowledge base for exciting new career opportunities is the cornerstone of 360training and it's why they're passionate about creating learners for life. At 360training, they believe they can make the biggest impact in advancing not only from an educational aspect, but catering to business training, authors, and classroom providers. With over 4 million learners in 76 countries, 360training is a global hub for on-demand career development.
LearnSpectrum will help you assess your 360training education requirements and craft a custom corporate training plan to meet your needs. Please call LearnSpectrum toll free at 888.682.9485 and speak to a representative.
*Information sourced from 360training.com